Best Dog Life Jackets 2020: The Ultimate [Buying] Guide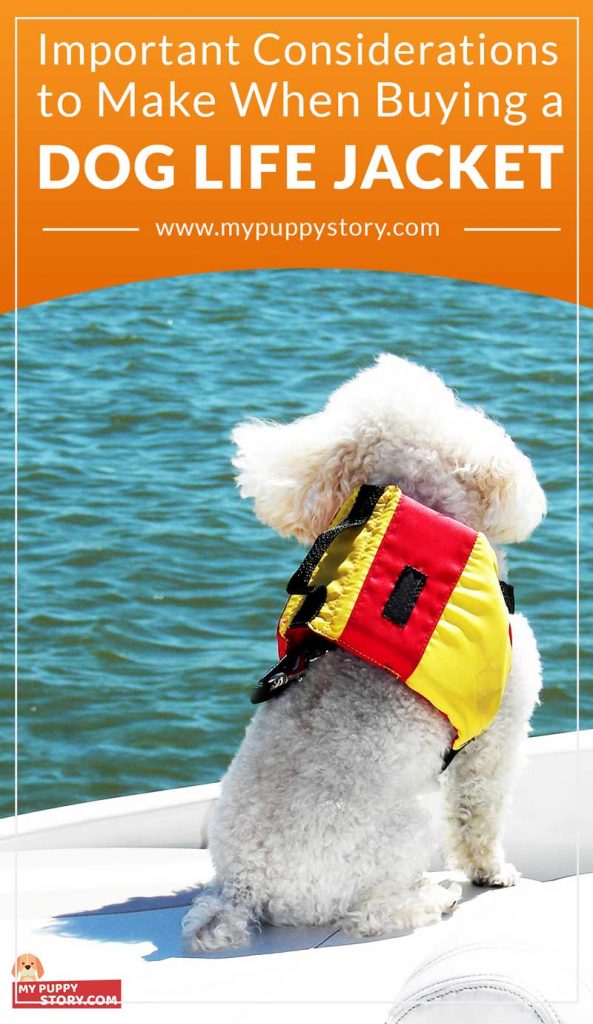 Me: "I'm sorry, you said what?!"
Friend: repeats "Dog Life Jacket"
Me: *lets out a giggle*
Friend: *gives me a puzzled look*
Me: "Wait, you're serious?!"
That was my reaction when I first learned about doggie life jackets. It seemed like a needless product—"Dogs can swim just fine," I thought to myself.
I was wrong. Even more so, because an estimated 5,000 pets (dogs constituting a substantial percentage) drown in swimming pools annually and the tally is increasing. This figure balloons when it includes pet drowning in other water bodies, such as lakes, rivers et cetera.
It is amazing to have your dog join in the fun when you take trips to the lake, pool, beach, or engage in fun water activities, like boating, kayaking, canoeing, or rafting; rather than leaving him at home or with a pet sitter. But as you gather relevant equipment, wears, and safety gear for yourself (and other members of your family or friends), ensure that you aren't missing a vital piece of gear to keep Fido safe.
This gear is the dog life jacket or personal flotation device (PFD). It goes by other names that are open compound words derived from any word in three word groups—[dog/doggie/canine], [life/flotation/swim], and [jacket/vest/device/preserver]—in that order. For example, other synonyms are doggie swim vest, canine life preserver, dog flotation device et cetera.
The dangers are profound and it is your duty as a safety-conscious pet owner to have a canine life jacket on your pup when he is in or around bodies of water. A quality flotation device would also provide buoyancy that would minimize fatigue, which translates to longer water fun moments for you and your dog.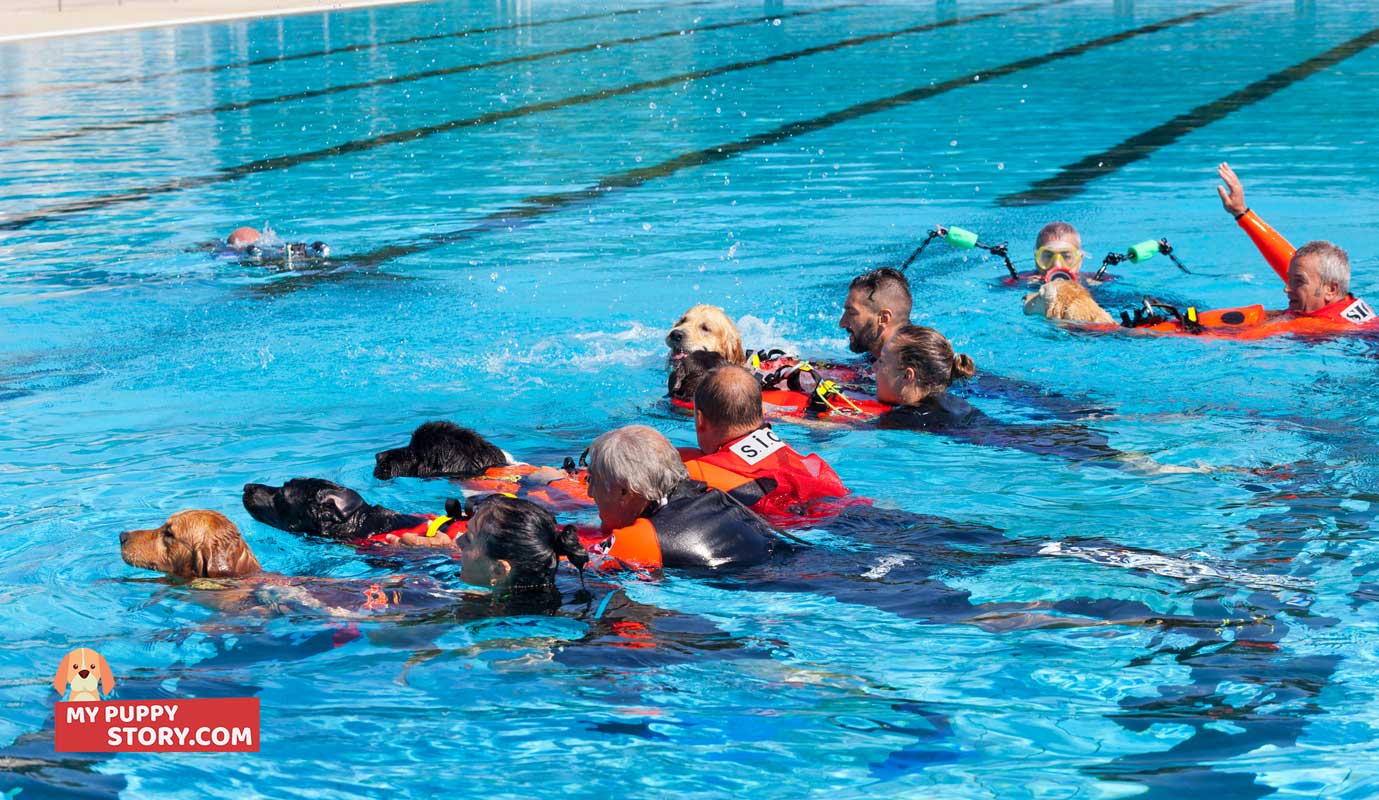 Why Life Jackets Are An Absolute Necessity for Dogs
Every dog lover knows that most dogs are good swimmers. There is a reason why dog paddle is the name of a swimming style. But there are several dog breeds that do poorly in water—brachycephalic dogs, dachshunds, maltese, basset hounds are some of the better known breeds. Also in this category are dogs with low body fat such as greyhounds, older dogs, and dogs with mobility or health issues.
Certainly, you do not want your dog to be unprotected from water hazards if he is unequipped to swim for natural (heavy heads and chests, short legs, or ageing) or unnatural (health or mobility issues) reasons. Especially if he is a big fan of water as many dogs are.
And while this is obvious, there is a case to be made to outfit the good swimmers as well with PFDs. One reason for this is the unpredictability of dog behavior (and sometimes, predictable behavior in the case of swimming addicts that you typically have to drag off the water shivering and exhausted). Another is the unpredictability of nature—a stream that may appear calm on the surface may very well have an undercurrent that would be too strong for your dog to swim against.
Underestimating the combination of these two is taking an unnecessary risk.
An even more compelling reason rests on the basic tenet of safety—being prepared for worst-case scenarios. Your dog may fall into the water accidentally, struggle to swim or get tired while swimming, not have the option of swimming to land in the event of a disaster, or may be incapacitated due to an accident such as receiving a blow to the head.
In any of these (and many other) scenarios, the best chances of survival for your dog is a life jacket that keeps him afloat with zero effort on his part, has bright colors for easier identification, and has a resilient handle to make the task of pulling your dog out of the water easier. A canine swim jacket would prevent drowning as well as reduce anxiety, disorientation, and exhaustion from your dog, especially in the event of a serious water/maritime accident when any able person would give priority to human rescue.
But: Before we proceed to discuss how to get a quality canine flotation device and the top choices available, we need to make an important distinction.

Dog Life Vests vs Dog Life Jackets: How They Differ
You'd be forgiven to think they are synonyms. On the surface, they appear to serve the same purpose—keep your dog afloat. However, they have simple differences that are not necessarily microscopic. Compared to a life jacket, the life vest is
smaller,
easier to remove, and
mainly covers the front of your dog's body
Essentially, a dog life jacket is the beefier, more restrictive, and expectedly, more expensive flotation device of the two. Which is interestingly similar to the difference between traditional jackets and vests (waistcoats) in formal wear.
The dog life vest has its peculiar uses. It is most suitable:
for use in less turbulent bodies of water, such as a swimming pool
to provide a sense of security to an uneasy pup when you first introduce him to water
For virtually every other scenario, a life jacket is the recommended choice. As the minor amount of buoyancy as well as fewer snaps and buckles make canine life vests unsuitable for use in and around bodies of water that are more turbulent. Sure, life jackets take more time to put on and take off, but the better buoyancy, better coverage of your dog's body, brighter (and often reflective) coloring, more robust handles, and more buckles and snaps are far more important plus features.
Introducing a dog to water
There are dogs like the Golden Retrievers and Labradors that have unreserved love for water and would be the ideal pooch pets for Poseidon. And there are others on the opposite end of the spectrum like Chihuahuas and Yorkshire Terriers that shy away from anything larger than a bowl of water.
If you enjoy water activities, you'd definitely want to share the fun experience with your dog, which would present an immediate challenge if your dog just doesn't share your water interests. All hope is not lost however, as lots of dog owners have consistently been able to get their water-shy Fidos to loosen up. The deal is to make small efforts gently and slowly work your way up.
You should begin to get your dog accustomed to wearing a life vest when venturing into a body of water, by making him comfortable in a life vest at home. Then you should introduce your dog to water with a wading pool that has a gentle, calm water movement that does not raise the anxiety of your dog. You want your dog's first life vest and water experience to be pleasant. A couple of pleasant experiences in a calm setting would be the primer to moving on to bigger and less calm bodies of water such as the beach.

Important Considerations to Make When Buying a Dog Life Jacket
Buoyancy
This is undoubtedly the top factor to consider. After all, the primary purpose of a doggie flotation jacket is to keep your dog afloat with as little or no effort contributed by the dog. Without optimal level of buoyancy, your dog gets to expend energy to stay afloat, which is undesirable.
Most canine life jackets would have flotation padding at the key parts—under the belly, surrounding back, and sides. However, a preferable buy should also have flotation in the neck and chest areas to help keep your dog's head above the water.
Bright Color and Reflective Strips
This isn't purely about aesthetics. The practicality of having a canine swim jacket with bright color is that it improves visibility of your dog both during safe, fun times and in the event of an accident.
If your dog is in the water having a merry time while others in boats and jet skis are having fun as well, a bright colored doggie life device stands out clearly to make it easier for these people to avoid unintended contact.
Furthermore, should the worst happen, the improved visibility would help search and rescue efforts, especially when there isn't much sunlight. Several top-quality PFD manufacturers go the extra mile to outfit their premium products with bright reflective strips that further improves visibility considerably.
Handles
The purpose of this feature is glaring. Any decent dog flotation jacket should have at least one strong handle. A doggie life jacket with two handles is ideal for larger and heavier dogs. Handles make it much easier to pull your dog out of the water, especially when he may be scared and uncooperative to your commands by frantically flailing, wriggling, and moving bundles that can be difficult to maneuver.
Make certain that the handle is sturdy.
High-Quality Material/Durability
I believe I speak for most dog owners when I say a dog life jacket shouldn't be a regular purchase like a grocery. It isn't so much about money savings as it is about a quality product holding its own in the event of an emergency. Set your sights on doggie swim devices with rip resistant high-density material that can sustain extended strain, numerous tugging and strapping, and function effectively in all weather conditions.
Size, Fit, and Adjustability
Dogs have several sizes and life jacket manufacturers accordingly offer products in different sizes. The sizes vary between manufacturers, so you want to get the right measurements of your dog.
To purchase the best PFD fit, get your dog's:
weight
length (measurement of the back from base of the head to base of the tail)
neck

measurement

girth measurement (of the ribcage behind the front legs)
After you get these measurements, compare them to list of measurements provided by the manufacturer (most products have them) and choose the closest.
The dog life jacket you purchase should be adjustable and you should be able to outfit your dog by:
Sliding the vest over the neck
Closing the straps and buckles around the neck, chest, and belly
Ensuring that your dog has wiggle room when closing the straps and buckles so it is not too tight (you should preferably be able to slide your fingers between your dog's body and each strap)
Fitting your dog snugly but not too tightly is very important so they do not slip out of the jacket.


Product overview
The Ruffwear K-9 Float Coatis the Mercedes of dog life jackets. It is elegant, stylish, expertly built, and its reputation precedes it. Despite holding the crown as the priciest premium PFD on the market, at the time of writing, it had the best review rating on Amazon.
This is no coincidence.
The K-9 Float Coat uses abrasion-resistant materials complemented by strategically placed cell foam panels and water-compatible webbing that guarantees optimal buoyancy, stability, comfort, and durability.
The K-9 has a light loop to which you can attach The Beacon (it is a bright LED light manufactured by Ruffwear) designed to improve visibility in low-lighting conditions.
For the build quality and ease of mind you get for using the Ruffwear K-9 Float Coat, the price is justifiable. If you are looking for the absolute best dog swim device for your dog, and you aren't on a tight budget, look no further.
Major selling points
Exquisite material and build quality; it'll serve you (and your pooch) dutifully for years to come
Very sturdy handle for easy lifting
Extra flotation added beneath the dog's belly; for excellent buoyancy
Reflective trim to improve visibility
Wide, telescoping neck closure to keep your dog's head well above water; it also adjusts and fits to several neck positions
ITW Nexus Airloc sheltered buckles keeps straps unexposed to prevent potential snagging
Complete range of sizes from XX-Small to X-Large
Bright colors—Blue Atoll, Dandelion Yellow, Red Currant, Sockeye Red, and Wave Orange; newer colors made available regularly
Why we recommend it
The quality of the material got to us with the extra flotation, immense build, and sheltered buckles and straps. That trumped the competition. It also lived up to its premium tag with reflective trim, strong handle, and adjustable neck closure.
The support for several sizes and provision for more color options were the icing on the cake.
A few downsides to note
This is a near-perfect product and it's incredibly difficult to find something to pick on. The jacket is worth every penny of the price tag and the simple handle is large enough and strategically positioned to be adequate for pulling large dogs.
---
Product overview
If for some reason the Ruffwear Float Coat is above your budget, then the Outward Hound Ripstop, now called the Outward Hound Granby Splash, is your perfect bet.
Kyjen is the leader in travel and outdoor gear for dogs, so they have the experience and wherewithal to develop a premium PFD with an affordable price tag.
Although they make compromises in the material quality, flotation pads, and use of exposed straps; they more than make up for it with effective buoyancy, multiple reflective strips, and the Outward Hound signature feature—double handles.
And dog owners all around appreciate the balance and value making the Granby Splash unarguably the most popular canine swim jacket on the market.
At the time of writing, it is the #1 Bestselling dog life jacket on Amazon. It is without question a premium doggie life jacket on a budget.
Major selling points
Top quality buoyancy with sufficient belly padding
Strong straps and quick-release buckles; that are easily adjustable to help attain desired fit
Signature double handle design; to make rescue much easier and distributes pressure exerted by the straps on your dog
Front neck float; to keep your dog's head above water
Multiple reflective strips
Complete range of sizes from XX-Small to X-Large
Bright colors—Fun Fish,Orange, and Pink
Other products in the Outward Hound series are the
Dawson Swim, which offers better buoyancy and foam neoprene side panels to naturally insulate your dog and keep him warm while he swim for longer endurance; and

Standley Sport

, designed for top-performance dogs and ideal for experience swimmers with its unique sternum design, mesh bellyband for water drainage, and rugged build for frequent use
Both have the series' signature double handle design, although in different orientations.
Why we recommend it
We'd tell you in one sentence: It is a complete package at a price you can't ignore.
A few downsides to note
With the K-9, it was hard to pick out something to thumb down, with the Ripstop, it is hard to complain about anything when it is abundantly clear that it is a bargain.
---
Product overview
The Neoprene is Fido Pets Product flagship dog life jacket in its PAWS Aboard series. It's got decent flotation on the side, back, and neck; heavy-duty velcro straps complemented by quick-release buckles to make certain your dog never slips out; and a sturdy handle.
It is well built with the right kind of fabric, as such the Neoprene would be a lasting purchase. Like the flagship and more expensive Outward Hound Standley Sport, the Paws Aboard Neoprene has an advanced breathable mesh bellyband for proper draining, drying, and additional comfort.
In addition, its dual reflective strips, stylish design, and affordable price tag reiterate the fact that you can't go wrong by purchasing the Neoprene.
Major selling points
Terrific build; that is both elegant and durable
Decent flotation on sides and back
Adjustable straps and buckles; to get desired and secure fit
Advanced breathable underbelly mesh offers more comfort and prevent exhaustion & chaffing
Neck float; to keep your dog's head above water and strong handle; for quick and easy grabbing
Dual reflective strips; for improved visibility
Complete range of sizes from XX-Small to X-Large
Bright colors—Red,Yellow, Blue and Yellow, Blue Polka Dots, and Pink Polka Dots
Why we recommend it
The Paws Aboard Neoprene checks all the boxes of a premium life jacket at a reasonable price point. It appears to justify its marginal higher price over the Ripstop by providing more room in the neck, which is good news if your dog has bulky shoulders or thick neck.
A few downsides to note
The only significant con is its flotation, which is decent but could be better. In FPP's defense, the price tag prohibits including extra flotation.
However, the Neoprene is the flagship product from FPP (aptly studded with top-of-the line features like classy design and breathable underbelly mesh), outfitting it with maximum flotation, and say, double handles would have aced its feature list, even though it'd mean a higher price tag.
The Paws Aboard line already has the Double Designer model to offer great value at a bargain.
That said, as far as premium packages go, the Neoprene is a terrific buy. If maximum flotation is a big deal for you then you'd have to up your budget and go for the Ruffwear K-9 Float Coat.
---
Product overview
The Surf n Turf is Kurgo's only life jacket in the market, and it occupies a unique, lofty spot of offering lots of value even if it isn't as cheap as the Ripstop.
For starters, the Kurgo Surf n Turf bears strong semblance to the Ruffwear K-9 Float and although its material and build quality doesn't measure up to the K-9, it holds up all right with rugged ripstop polyester material to stay firm in the premium category. Buoyancy is top-notch and it ticks all the right premium boxes too.
Reflective trim and high-contrast color, double metal D-rings for connecting leashes, neck padding, and adjustable straps and buckles for desired fit.
However, the Surf n Turf isn't just another run-off-the-mill jacket in the premium category, it packs some serious unique punch.
The first is its 3-in-1 functionality, which are as a life vest, rain (waterproof) coat, or a 3-season shell jacket. To convert it to a waterproof jacket, you only have to remove the flotation layer.
This layer isn't just removable, you could very well beef it up to provide extra warmth, especially during colder seasons. The perfect product to use is the Kurgo Wander Coat, which fits well because this is one of its dual purposes.
Another is a feature reserved for the most expensive model in the Kyjen Outward Hound line (the Standley Sport)—transverse double handles in opposing orientations.
It is an arguably better implementation than the Ruffwear K-9 sturdy single handle, and certainly better than the double handles with same orientation on the Kyjen Ripstop and Dawson Swim jackets.
Then there is the feature that is a testament to true American service delivery—no-hassle lifetime warranty against manufacturer defects. This feature is rare in the canine flotation device segment.
Major selling points
Decent design, build quality, and buoyancy
Adjustable straps and buckles
Best transverse double handles; for extraction
Neck float
Reflective trim
Versatility as a 3-in-1 dog jacket
Lifetime warranty
Near complete range of sizes from X-Small to X-Large
Bright colors—Red/Red and Red/Grey
Why we recommend it
It is no surprise that the features that set the Surf n Turf apart from the competition endeared it to our hearts—the versatility, double handles, and lifetime warranty aren't gimmicks.
Beyond its unique offerings, it is a very capable doggie life jacket with the right mix of rugged materials for durability, bright color accents and reflective trim, and quick-release buckles for secure fit.
A few downsides to note
You must be wondering why the Surf n Turf isn't higher up in this year's ranking if it is so great. Well, it has a few quirks that need Kurgo's attention.
Top on the list is the underbelly nylon covering that could use more padding. The argument of unique features isn't convincing when the cheapest jacket on the list has better padding.
It doesn't have a belly Velcro fastening system either found on the more expensive Ruffwear K-9 and cheaper Paws Aboard Neoprene.
The second is a con it shares with the Paws Aboard Neoprene—non-optimal flotation. This time however, it is understandable as the life jacket is a hybrid meant for multiple uses.
Therefore, if your dog would be using the jacket mostly in shallow, calm waters, then you needn't worry about the buoyancy. If you'd be taking your dog to deeper, rougher waters, then you'd have to go for the Ruffwear K-9.
It also lacks the XX-small, size which would be a deal breaker for owners with very small dogs.
In summary, the Kurgo Surf n Turf does come close to snatching the crown from the Ruffwear K-9, but fell short on select features that shouldn't be lacking on a dog life jacket hoping to reinvigorate the market with innovation.
That said, the Surf n Turf is a really nice package once you look past the few omissions that may not be deal breakers to majority of dog owners, and probably had to be made for the product to be competitively priced with its unique offerings.
---
Product overview
EzyDog has a reputation in the dog gear industry that can only be honed by unbridled, consistent quality service delivery. Its PFD rides on this outstanding reputation and delivers strongly.
From the front end of the neck float to the back end of the back float, the EzyDog Doggy Flotation Devicescreams exceptional quality, a unique design, as it is an epitome of what a premium life jacket should be.
EzyDog did not bet on the popular designs of the Ruffwear K-9 or the Outward Hound Ripstop, rather it offers a design refresh that is as unique as it is stylish. It isn't perfect, nor does it take the crown from the K-9 Float Coat, but it is befitting for a top-dollar canine swim jacket.
If the design came close to the mark, the build quality aced it. With 50% more flotation material evenly distributed and superior durable construction, only the Ruffwear can match its amazing buoyancy.
Even better, the dual handles on this jacket are integrated in an elegant way to foreclose the possibility of ripping off. Adjustable neoprene straps and quick-release buckles keep your dog secured and the jacket is fitted with highly reflective strips for greater visibility and improved nighttime safety.
Major selling points
Exquisite design and build quality; that is easy to clean and long-lasting
Off the charts buoyancy
Fully adjustable neoprene straps and quick-release buckles; give perfect fit
Very sturdy, integrated dual handles; make extracting your dog a breeze
Reflective trim
Neck float
Complete range of sizes from XX-Small to X-Large
Bright colors—Green Camo, Red, and Yellow
Why we recommend it
The build quality of the EzyDog Doggy Flotation Device is phenomenal bringing very obvious buoyancy and durability benefits that only the more expensive Ruffwear K-9 Float Coat can rival.
You do not have to stay on your toes when you are heading out to deeper, rougher waters with your dog; nor do you have to be concerned about its weight and the jacket not holding up at a crucial moment. This tough jacket is built to last, give your dog optimal comfort, and give you maximum peace of mind.
A few downsides to note
The EzyDog Doggy Flotation Device offers top-quality from front to back and while this is a point in its favor for astute crafting, it does have a downside. It keeps the dog straight in water, which counteracts the ability of the neck float to keep the dog's head above water.
The Ruffwear avoids this by having a smaller footprint, and the Outward Hound Ripstop avoids this by using less flotation at the rear end and an additional flap on the neck float. Both options allow the dog's rear to sink a tad lower to place the dog at an angle in water for better head positioning.
A way around this is to tighten the rear underbelly strap & buckle less than the front underbelly strap & buckle.
That said, EzyDog should have gone the extra mile to include a strap in the neck float, and could have made the buckles sheltered/hidden to be in direct competition to the Ruffwear K-9 Float Coat.
Nonetheless, if you want the Ruffwear K-9 Float Coat (you do not want to make a compromise on quality, buoyancy, and durability) at a lower price and are willing to forego both features and slightly better design, then the EzyDog DFD is your obvious choice.
---
Product overview
The Double Designer is Fido Pets Product entry-level dog life jacket. It is in direct competition with the Outward Hound Ripstop and is a five-star alternative to the Ripstop.
The idea is simple—a canine swim jacket that covers the essentials in a premium product offered at an affordable price, and the execution is perfect. Unsurprisingly, the product has been a hit with buyers rolling over it (it has the second largest number of positive reviews on Amazon after the Ripstop).
The Double Designer has a similar design to the Ripstop with an extended back padding, Velcro fastening/buckle neck float, and dual side buckles for a secure fit. There are subtle differences though, such as the extended lip on the neck float of the Ripstop, coloring scheme, and the signature double handles on the Ripstop.
None of these differences offers huge functionality or performance improvements however, as the neck float on the Double Designer offers similar top quality buoyancy to keep your dog's head above water, and the single handle on the DD is large enough for you to use two hands for easier extraction.
The Double Designer however has an outstanding feature—advanced underbelly mesh for quicker draining of water and extra comfort; it is found only on flagship products such as the Paws Aboard Neoprene and Outward Hound Standley Sport. It isn't a make or break feature, but it does justify why the Ripstop is marginally cheaper (a few dollars) than the Paws Aboard Double Designer.
Major selling points
Terrific buoyancy with neck float
Sturdy heavy-duty straps and adjustable buckles
Large, strong handle; for easy lifting
Exquisite advanced breathable underbelly mesh
Product exchange process is a breeze; should you make the mistake of ordering an incorrect size
Reflective strips
Complete range of sizes from XX-Small to X-Large
Bright colors—Nautical, Neon Yellow, Blue Polka Dot, and Pink Polka Dot
Why we recommend it
We recommend the DD for the same reason that we recommend the Kyjen Outward Hound Ripstop (Granby Splash). It is a complete package at an amazing price point.
If you are a big fan of Paws Aboard line of products, the Double Designer is an obvious choice for buyers on economy drive. Furthermore, if you can increase your budget slightly above the price point of the Ripstop, then you should get the Double Designer for its underbelly mesh that'd enable your dog stay longer in water.
A few downsides to note
Like the Ripstop, the DD is so affordable it's hard to pick on something to rant about. Fido Pets Product has improved on the build quality over the years after receiving reports of a few defective models having durability issues, especially with larger, heavier dogs.
That said the Double Designer enjoys raving reviews from owners and we heartily recommend it.
---
Product overview
The Vivaglory Dog Life Jacket has very similar design to the Paws Aboard Double Designer, like really close. It has same shape, same color scheme, same Velcro/buckle combinations and location, and a single handle.
However, the Vivaglory has a sturdier handle, extra flotation, and more color variations. The Double Designer and Ripstop are better bargains, but the Vivaglory is a premium life jacket in its own right that's worth every penny.
Major selling points
Decent buoyancy
Quality Velcro straps and buckles
Sturdy handle
Reflective strips
Near complete range of sizes—X-Small, Small, Medium, and X-Large
Bright colors—Blue, Green, Light Green, Orange, Pink, and Yellow
Why we recommend it
Aside the fact that it satisfies our basic requirements as a premium life jacket, the Vivaglory has extra flotation and a sturdy handle, which are desirable.
A few downsides to note
Quite frankly, compared to higher-ranked dog life jackets, the Vivaglory falls short on a number of counts, especially the lack of XX-Small and Large sizes (at the time of writing), that it shouldn't have considering its price tag.
Nonetheless, all things considered, it is a satisfying buy.
Vivaglory has a second product—the New Sports Style Ripstop—with a smaller footprint that is similar to the Ruffwear K-9. It is nowhere near the same quality, but it occupies almost same price point as the traditional Vivaglory with same features, so you may want to consider it before making a purchase.