Dogs are considered the most loyal and friendly animals as they love their owners, or shall we say their legs. In most of the cases, the act of a dog humping someone's leg, or another dog, or a pillow, could be really annoying, especially if the situation gets out of control. Sometimes it may cause fighting between dogs and could create an embarrassing situation for you when other people are around. In short, dogs and humans who are a victim of dog's humping, may be antagonized, terrorized, and even injured by this act. As a dog owner, you will need to stop the humping behavior but before you do that, you will need to understand the cause of it as it is often misunderstood.
Why do dogs hump?
Humping or mounting is a normal mating behavior in both male and female dogs. However, they do not always do it for sexual reasons; in fact there are many reasons for this behavior. Female dogs do this less frequently as compared to the male dogs. So, it is in their DNA to behave like this, but understanding the reasons can make you stop them from creating an embarrassing situation. The following are the reasons why dogs hump:
Sexual:
This is one of the most common reasons that dogs hump and masturbate because of sexual reasons. Even if the dog is neutered or spayed, it does not matter because it will mount or hump whenever it wants to. The neutered dogs also hump and the people around think that the dog is being flirty or physically close. So, the major reason of this behavior of a dog is related to sex or reproduction. A dog may mount on humans, other dogs, toys, and other objects to satisfy its sexual desires.
Excitement or anxiousness:
Dogs that are prone to anxiousness or excitement may also do humping because they think that things are getting out of their control. So, the second most common reason of humping behavior is excitement, stress, anxiousness, or anxiety. Dogs get stressful or excited when they meet other dogs and this is the reason you can see many dogs mounting or humping in parks. However, mounting or humping that leads to dog fights should not be acceptable as it can cause serious injuries. So, when a dog is extremely stressful or excited, it may direct its attention toward you, other dogs, a toy, a pillow, or any other object around.
Social:
Dogs also exhibit this kind of behavior to show their power and control over other dogs. It is a dog's way to show the other dog that it is more powerful or belongs to a better class than the one which is being humped. Just like humans, dogs also have social status and ranks which are evident from their breeds. Mostly the large breed of dogs feels themselves as superior to others and they start humping another dog to show its supremacy.
Playing or attention-seeking:
It is said that the dogs seek your attention out of boredom. So, dogs do humping and mounting when they are bored and want to show their playfulness, in other words they want to seek your attention. If your dog is lonely and has no activity, it will develop a habit of humping to seek your attention. Sometimes, dogs get overexcited while performing an activity or playing, and thus they start mounting or humping. But if your dog does that often, it could be annoying for other dogs especially the puppies because they feel bullied.
Compulsion:
Sometimes, dogs get too used to this behavior and they start doing it out of compulsion. Many dogs make it a routine if not stopped, and they find it as a way to relax and release their stress or anxiety. If this habit of humping often gets too far, it could even harm the dog and stop it from performing normally.
Underlying medical issues:
There may also be some medical reasons associated to humping. The medical issues may include allergies, itching of sensitive body parts, urinary tract infections, urinary incontinence, and other types of discomfort. Priapism is another medical condition in which a dog may have painful and persistent erections. In these cases, the dogs want to relieve the painful and uncomfortable situation to relax them and relieve the muscles.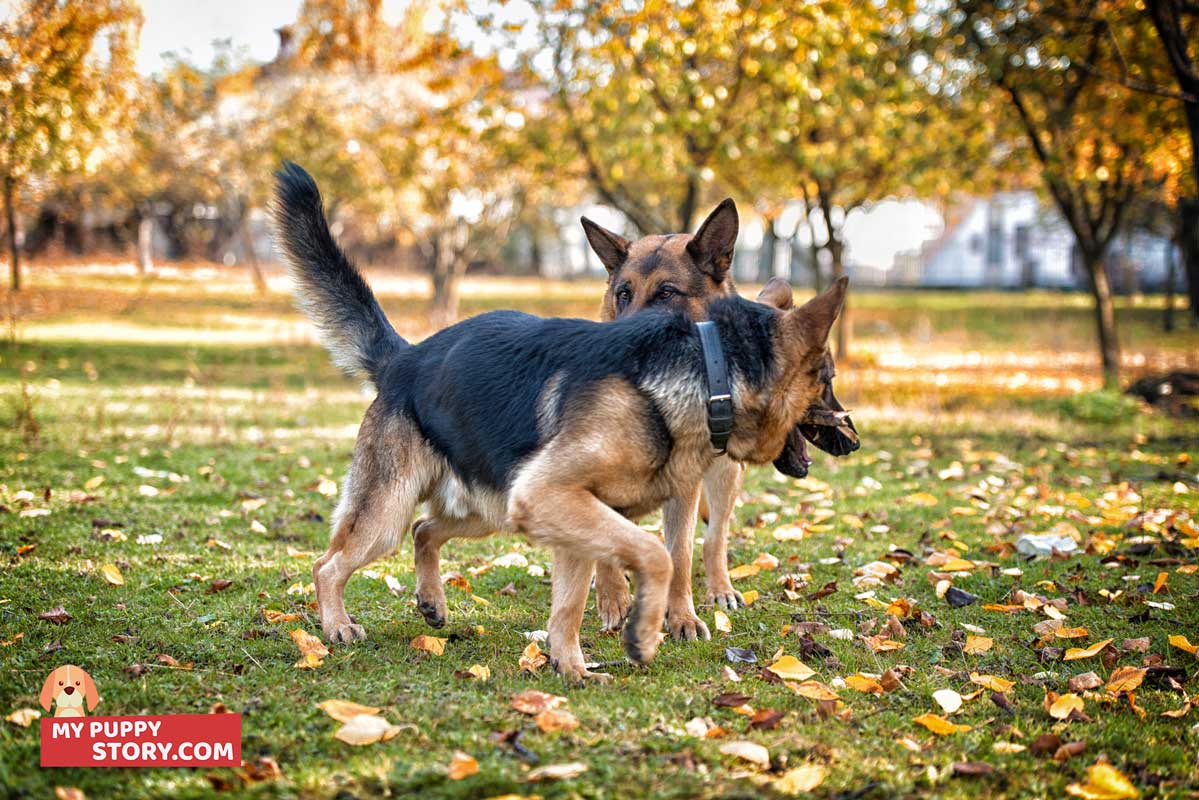 What should be considered normal humping?
According to many vets, humping is a normal behavior. However, it is not; and not all the humping behaviors should be considered normal. If your dog is playful, and is in a good mood while humping, it is not anything to worry about. You dog may often hump other dogs and also be humped by them, and that is a normal behavior. The thing to worry about is the frequency and thus you should not let your dog hump as a habit. If your dog starts humping you, you should immediately stop it from doing as this behavior is not at all accepted. The best thing to do is to discourage it by walking away.
Can dogs be taught to stop humping?
The answer to this question is yes. Dogs can be trained to stop humping and mounting and the best way to stop them is by discouraging them when they have just started doing it. Most of the people think that humping or mounting looks cute when puppies do it, but this thing may become a habit and turn into embarrassment when they turn into young dogs. So, if you do not want your dog to behave this way, you would have to stop it from humping from the start. According to vets, neutering a dog can decrease the habit of mounting but that does not mean you can completely eliminate this habit from a neutered dog. So if your dog's humping behavior embarrasses you, you should try to stop it right from the start, otherwise it will become a habit.
The embarrassment of mounting or humping
When a dog gets into a habit of humping, it mounts other dogs and humans and creates an embarrassing situation for you, its owner. The problem arises when your dog does not understand that you do not like this behavior and keeps on mounting on to your legs or other toys even when guests are there. In such cases, distraction works but only for few minutes and the dog is back to humping. Along with being embarrassing, this act may also cause discomfort and nuisance and the dog owners mostly end up yelling and chaining the dog.
Which type of humping behavior is difficult to deal with?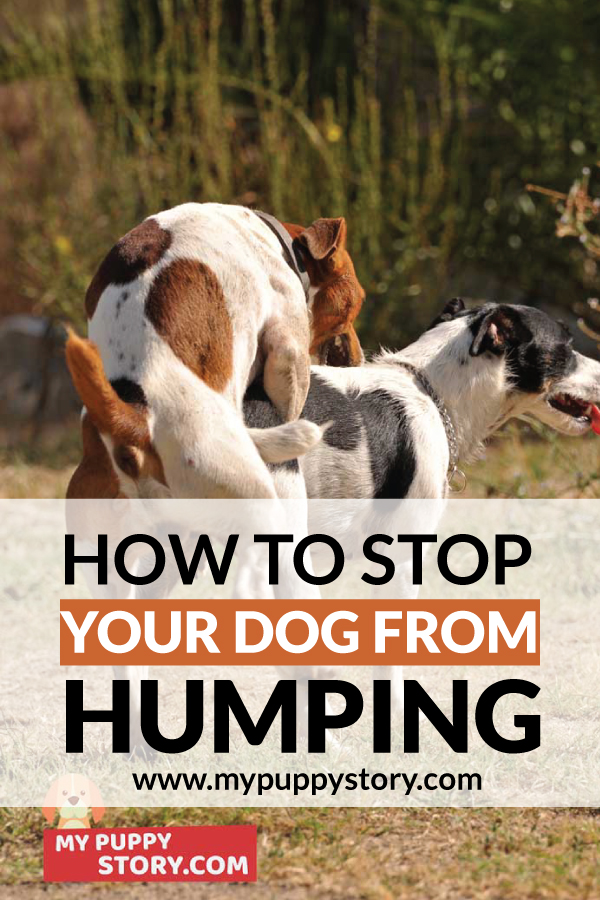 Some types of humping behaviors are different from others because all the behaviors have a different reason. If a dog humps a person, it is easier to stop because the person can just walk away or pick the dog up and put in a different place. When the dog mounts on other dog for humping, you can easily separate them and shift them to separate places. However, if the dog has a habit of mounting and humping an object, it gets very difficult to break this habit. This is because the dog finds anything to hump such as pillows, toys, or any other object and it is impossible to hide everything. The following are the different types of humping behaviors explained:
Dog humping another dog:
To stop dog humping another dog, you will need to work harder if your dog is adult as compared to a puppy which has just reached its puberty. This is because a puppy or young dog has lesser experience of mounting on other dogs as compared to the adult ones. To behave properly with other dogs, you will need to teach your dogs some social skills. When you feel that your dog is about to mount the other dog, start the trick of body blocking by removing your dog away from the other dog. If your dog does not stop by body blocking, try and announce that the time is over and that the dogs do not need to play anymore. If you do not notice any sign of mounting, let them play and have fun together. To stop the dog humping another dog, you must take your dog for a play date with other dogs. If you have multiple dogs at your house, training them would get easier.
Dog humping human:
This behavior is also handled almost the same way as dog humping another dog is dealt. If your dog starts humping your guests or family members, educate them about how to deal with the dog in this situation. Some dogs may become aggressive if you will try to remove them from legs. So, it is better to train your guests and other family members to respond promptly to this situation. If your dog becomes angry, growled, and shows teeth when you try to stop it from mounting, it is necessary that you consult a professional to treat it accordingly. Also, make sure to keep your dog away from people so that you are safe from the embarrassment.
Dog humping object:
Dog owners often come across annoying situations when their dogs start humping an object, be it a toy, a pillow, or any other object. If your dog does not develop a habit of humping objects, then there is no harm in letting it do this once in a while. However, if it wants to hump objects most of the time, you will need to intervene as this habit is embarrassing as well as harmful to health too. Notice the objects which your dog loves to hump, and try to remove the objects from your dog's sight. Behavior modification and training techniques can also help in this regard. This humping behavior is the most stubborn and for preventing it, serious measures such as neutering and spaying should be practiced.
Preventing your dog from humping
There are many methods to prevent your dog from humping or mounting. No doubt, the humping behavior of dogs is actually originated from the desire to mate, but if this behavior is not discouraged and stopped, it could turn into an embarrassing habit and even cause threat to other dogs and people. The large breed of dogs could cause severe injuries to humans and other dogs and this could result in serious actions against the dog owners too. There are many effective steps that a dog owner can take to prevent this behavior of their dogs. However, pet owners should also bear in mind that this behavior is a natural thing and should be stopped in a gradual and wise manner. You can try these tips and techniques to stop your dog from humping.
Spay & neuter your dog:
The best solution to break the humping habit of your dog is to spay and neuter it. This will not only decrease the dog population, but will also decrease its urge to mate. According to studies, neutering stops the humping behavior in almost 60-70% dogs. It is recommended to neuter a dog as early as possible to prevent humping. This is because humping behavior develops when the puppy reaches puberty and if you neuter your dog before this, it is expected that it will never exhibit the humping behavior. If your dog has already reached puberty and has developed the habit of humping, neutering will minimize the habit of humping and within some months it will calm down.
Physical exercise:
Daily exercise is important to boost a dog's energy level and has positive effects on the dog's body. Due to exercise, your dog will also get rid of other unwanted habits and medical issues. So, make sure your dog is getting enough exercise daily such as playing and going for walks. Some dogs may want to mount your leg when they are full of energy, but they will stop doing it soon because they will be so exhausted and tired after doing lots of physical exercises. Make a routine and take your dog daily to the park for exercise or long walks. You can also do a research and find different types of playful exercise for it.
Corrective training:
Always remember that you are the owner of your dog and you can play the role of an alpha dog. As soon as your dog starts to hump or show signs of humping, sound a loud voice and say no in an angry tone. Your style should be assertive but not very angry because sometimes dogs may get stressful and start humping. If you think you would not be able to control the anger in your voice, you can try some other source of sound such as blowing a whistle or ringing a bell. If you are using a very large source of sound, make sure that you are far away from the dog, otherwise it may damage its ears. Also remember that making noise is effective when the dog just starts humping or is in middle of it, not afterward. A firm 'stop' or 'no' will make your dog realize that this behavior is not appropriate.
Distraction:
Some dogs, as mentioned above, do humping because they seek attention or feel excited and playful. If you think your dog is behaving like this to seek attention or just out of boredom, try distracting it by offering it something to eat or play. You can also distract it by offering a boomerang or any object that your dog loves to play with. Also notice that dogs display certain type of behavior such as rubbing, pawing, panting, and licking. If your dog displays such behavior, start distracting it by asking it to perform a trick or act.
Ignore:
Sometimes, ignoring the humping behavior also does magic. If your dog starts humping, try and leave the room immediately or move your head away. When you will ignore your dog's behavior, it would silently convey your message that you are not interested in this act. At last, your dog will get a signal that its humping behavior will not get your attention and gain your approval. Most probably, your dog will stop this humping behavior and understand that you do not accept this.
Checkup for medical issues:
When humping is still present even after trying all the techniques, you should take your dog for a complete checkup by a vet or professional. The vet will figure out whether this humping or mounting behavior is because of stress, anxiety, or because of some underlying medical condition. To relieve stress and anxiety, antidepressants and anti-anxiety medications are given to improve dog's physical and mental health. However, medication should be considered as the last option as it may have some side effects too. If the dog is having an allergy, infection, or some other medical issue, the vet will give medication and treat it accordingly.